Agrian Advances Scouting App With Pest Trap Counting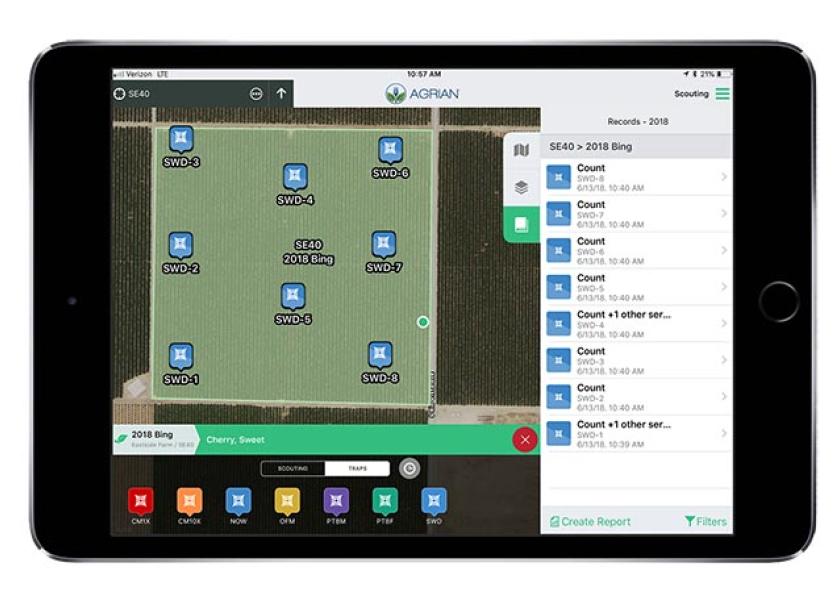 As an integration with the Agrian platform, the company has added features to its scouting app making pest trap counting and maintenance easier.
"Many pest counts today are still performed via pen and paper," Matt Wilson, Product Manager at Agrian said in a press release. "Those that are collected electronically are rarely in a shareable format for the customer, or not easily aggregated into enterprise-level reporting that is sorely needed today."
With the new functionality, users can schedule, track, monitor and analyze their team's pest trap counting activities.
Here are six of the specific features and benefits of the new update:
Trap & Scout Together – Record both scouting and trapping data in one platform to streamline the data entry process and minimize training of field personnel.
Real-time Syncing and Sharing – Users can share individual readings or historical reports from the field.
Trap Templates – Setup common settings, services and alerts, which can sync to mobile devices.
Trap Bundles – Create a group of trap templates to streamline data entries when when multiple traps are routinely deployed together in the same location.
Count/Service Attachments – Add any additional information (photos, documentation or explanations) related to counts and trap service.
Enterprise Reporting –Within the Enterprise Dashboards feature, you can setup reports with custom parameters in near real-time.  
"Agrian's new capabilities allow retailers and advisors to do all their required trapping activities within a single, unified platform," Wilson said. "You can schedule, track and monitor the activities of all your trap counting personnel, and then analyze and roll-up reports on that aggregated data. That makes decision-making faster and allows users to quickly see trends across their full operational footprint."
The new features are already available for all Agrian scouting users.