7 Considerations Before You Sign On To A Carbon Market Agreement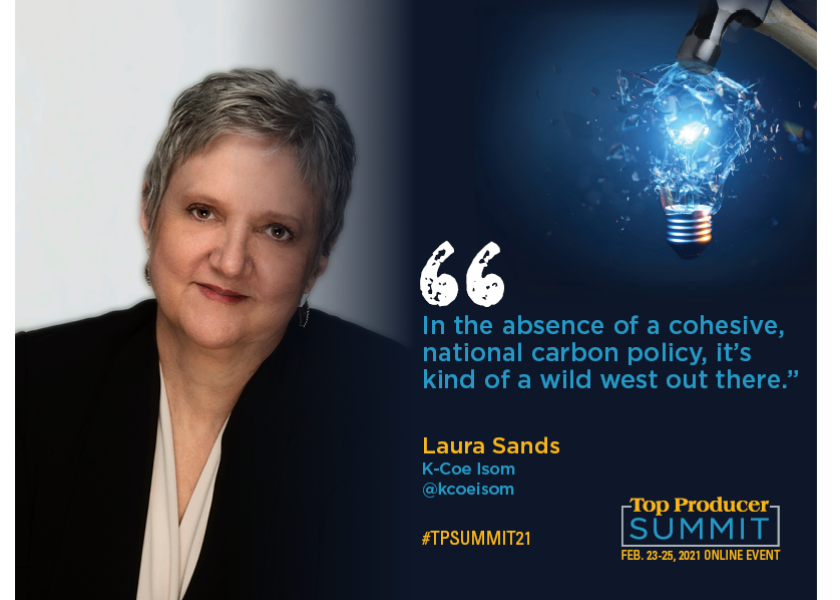 Potential opportunities with carbon markets have generated considerable interest from the agricultural community during the past few years. In the process, farmers face the challenge of determining which ones make good business sense for them and their operation, says Laura Sands, principal for K-Coe Isom. Sands spearheads the food and agricultural production initiatives for the company.
On Wednesday, she addressed the topic of "What to Know about Carbon Markets" during the online Top Producer Summit. Learn more here https://events.farmjournal.com/top-producer-summit-2021/698017
"We know about carbon sequestration and avoiding emissions, but there are a number of different types of carbon markets that we expect to emerge in the future," she says. As those opportunities emerge, Sands encourages farmers to consider these seven factors before they sign on any dotted line.
1.    Understand the business plan of the developer you plan to work with. That means knowing who the developer is, what they want to achieve and what you will have to do to work with them, Sands explains.
2.    Determine whether you will be implementing a new practice or a practice that is uncommon for your area. Sands says farmers need to be aware of a concept called additionality, an issue that is somewhat controversial. Essentially, farmers who have used a conservation farming practice, such as no-till or cover crops, often have difficulty qualifying for carbon credits when they have been using the practice for some time.
"There's a lot of conversation about this in the carbon space today, and one of the ideas that is talked about is giving credit for early action and supporting farmers who've already been doing the right thing," she notes.
Even so, most existing opportunities are for farmers to implement new conservation practices on their land rather than continuing ones already in place.
3.    Ask how long the conservation practice will need to be implemented, its "permanence" requirement. "A lot of the current protocols ask that a practice be in place for seven to 10 years, and that can create a bit of a hurdle if you're a land renter," Sands explains, as a for-instance. "But know that there are folks who are looking at how to develop shorter-term credits that may be able to involve you that are not currently in the marketplace today," she adds.
4.    Consider how measurement and verification will be determined and the costs involved. "Make sure you have a really good understanding of what the expenses are and who will be responsible for covering them," Sands advises.
5.    Know what to expect from the agreement in the event of a reversal. An example of a reversal would be you agree to use no tillage in a field, but weather conditions in a given year cause you to be unable to fulfill the agreement; or the weather affects your soils in a manner that requires you to use a disk or plow. "You need to know the plan for that and who is liable – or if someone is liable – for this type of occurrence," she says.
6.    Make sure you know the data requirements. "Ask what kind of data you will be required to share and determine whether you believe it's an appropriate expectation for what you're doing," Sands advises.
7.    Review the basic contract terms in detail. "You want to know exactly what you're signing up for and what you'll be required to do," she says.
While Sands says she believes many farmers will be able to benefit from some of the carbon programs available now and in the future, she encourages them to ask questions and carefully evaluate each opportunity.
"In the absence of a cohesive, national carbon policy, it's kind of a wild west out there," she says. "A lot of the contracts are different from one entity to the other, and I think it's been confusing for a lot of growers to understand exactly what they're signing up for."
You can still register for the Online Top Producer Summit, which gives you access to content through March 31. Use the code "ONDEMAND" to take $25 off your registration fee. https://events.farmjournal.com/top-producer-summit-2021/698017
3 Factors Weigh on the Economic Recovery
Even With 90 Million Acres of Soybeans, Here's Why the Soybean Price Surge Could Stay Steadfast
USDA Chief Economist Expects Continued Chinese Demand, Battle Over U.S. Acres