Hemp Fraud Hits Farmer With Clone Scam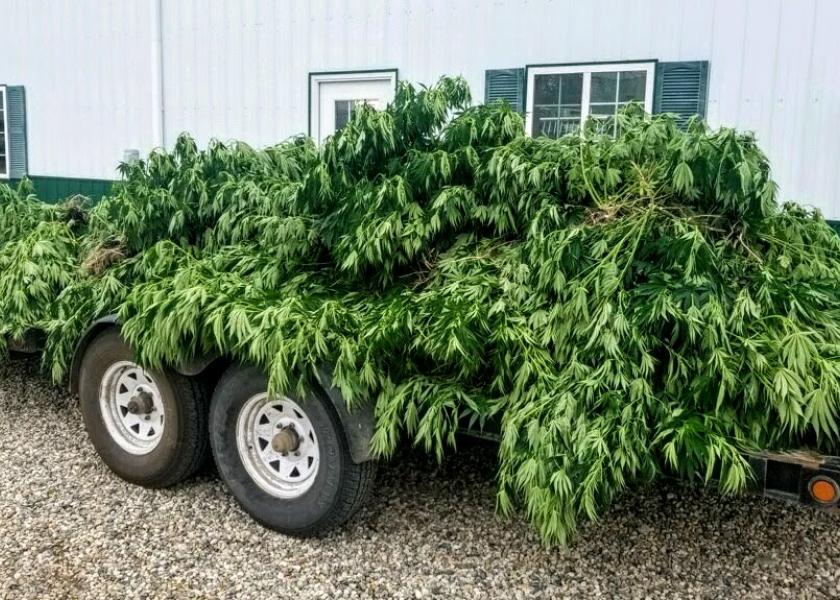 Wide and tall, Chris Adams' hemp was hiding a Trojan horse. As the field flowered in mid-September 2018, the North Dakota farmer was at the hemp homestretch, ready to harvest $200,000 in CBD production. Walking a slow place down the rows of female plants, he stopped in mid-step and stared in disbelief at an absolute gatecrasher—a pollen sac. Adios to the entire crop; Adams had just been skinned by the shady dealings of the Wild West hemp industry.
Farmer beware: Hemp is a frontier sometimes visited by fraud. The U.S. hemp train is loaded with hopeful farmers and reputable entrepreneurs, but it's also carrying dubious carpetbaggers. Cannabidiol (CBD), a highly desired extract of cannabis, is the darling of the hemp industry. By 2022, the overall CBD market value is projected to approach $2 billion, according to New Frontier Data, with $646 million of the total exclusive to hemp-derived CBD. Simply, wave that kind of green around a fledgling, fragmented industry and expect grifters to arrive.
Foxes in the Henhouse
Adams farms 9,000 acres on both sides of the North Dakota-Minnesota fence in the Red River Valley, and was an early adopter of hemp for seed in 2017, growing 300 acres. In 2018, he increased hemp for seed to 750 acres, and made a test run at hemp for CBD on his Minnesota farmland.
Bottom line, at fall harvest, he needed a healthy crop of female plants to produce flowers and biomass heavy with CBD content, yet below the .03 psychoactive THC (tetrahydrocannabinol) level to stay square with regulators. Fat on CBD; skinny on THC.
With no CBD experience to tap and no network of support, Adams began searching for a source of hemp clones. From Adams' perspective, clones ensured a consistent end-product. CBD production is strictly a no-males-allowed proposition. Just a few males hiding in a hemp field can pollinate an entire crop, triggering seed production in females, diminished flower set, and a drop in CBD concentration.
Looking southwest, Adams purchased clones from a seller several states away. In June, he drove the 15-hour trip to Colorado and made the pickup. Bound for home and hauling down I-76 with 4,000 two-week old hemp clones in a covered trailer, Adams had no inkling: Only half the load was female. He had 2,000 foxes in the henhouse.
Lay-Z-Boys
The day after Adams' return, Minnesota Department of Agriculture (MDA) officials arrived on his farm and counted each clone as required by regulation. After waiting on weather for several days, Adams was ready to plant. Across roughly 3 acres, he spread rows of plastic mulch strips every 6', and hand-deposited the plants into the plastic and dirt, with 5' to 6' of spacing, giving the clones plenty of room to expand. "I was concerned because the plants looked like bottom-of-the-barrel leftovers. There was variance in size with some 2" tall and others maybe 5" tall," Adams describes.
Over the next four days, Adams watered twice daily. After the initial irrigation, he was basically finished with management. (He made no applications of nutrients or chemicals, but at the end of July, during a particularly dry spell, Adams irrigated twice more.)
"I was optimistic at first because they grew up very well, but then we couldn't see much uniformity. They looked like a bunch of different styles of plants," he says. "By August, they were 3' tall and several feet wide. Then they hit a huge vegetative state and went up to 6' to 7' tall and almost equally wide. It was like looking at a bunch of Lay-Z-Boy-sized plants. The stalks were 2" to 3" in diameter and I was hopeful."
"I didn't have a clue until September. That's when I found out the guy in Colorado sent me home with a trailer filled with un-feminized seedlings."
Day of Reckoning
In mid-September, Adams' hemp began flowering (typically a six to eight week process) and he assumed a labor-intensive, but profitable harvest would begin: cutting, curing and stripping. Instead, he found the telltale pollen sac in the hemp rows—and then another—and another: "I kept looking and started finding them all over the place. I had about 50% male plants."
Adams tried to salvage the crop, pulling 2,000 plants and burning the lot. MDA officials tested the flowers on the remaining plants and delivered more bad news: The THC level was below .03%, but the CBD level was 1.5%, abysmally below his minimal target of 15%. "Our plants were worthless. Later, I found out another grower bought from the same batch in Colorado and he had the exact same problems as me. We've got one choice and we're going to litigation."
"I had 4,000 plants ready to harvest. Just say each plant produces a half-pound of flower material that's 18% to 20% CBD. That gives you 2,000 lb. of biomass to sell. Sold at $100 per lb., that totals $200,000. Basically, my potential to sell went from $200,000 to zero."
Take the Money and Run
Clarence Bachmeier is the plain-spoken cofounder of Rad Extraction, a highly reputed, family-run business based in Palmer Lake, Colo., which supplies manufacturers with bulk CBD. Bachmeier has been involved in the hemp industry for five years, and says Adams' situation is not exceptional: "Everyone knows this is going on and we see it: Farmers lose money on clone expense and then lose money on the potential crop. It's a double-loss."
The hemp industry contains a significant presence of unscrupulous players, according to Bachmeier, and the reasons are multi-layered. "It's a highly complex answer," he explains. "There are some underfunded companies and they'll do things to survive. There are guys with no skin in game, but come in as brokers with no hemp or agriculture background. There are crossover guys from the marijuana industry who are willing to operate in the gray. It's an extremely unique mix and there is nothing like it in agriculture."
As the financial pie grows ever bigger, Bachmeier warns of increased fraud. He says hemp cons will expand in tandem with outrageous CBD demand: "We're only at a tiny percentage of what the market will be in just five years. Hemp investment is going to explode and when big money arrives, it'll be ripe for fraud. More states are going to open their doors to hemp and then people are going to beg for genetics. When that happens, the cons will get worse; much worse. There are lots of guys willing to make a few million dollars and then run.
How can hemp farmers better defend against fraud? Bachmeier insists on old-time, personal references and heavy emphasis on contracts. "Who are you doing business with? There has to be accountability and legal recourse, and it all must be stipulated in contracts. Guys doing shady stuff are scared of contracts that cover delivery dates, product and more. Get an attorney and make sure the contract is tight."
Live and Learn
Despite Bachmeier's blunt assessment, he insists hemp opportunity is still in its infancy. In 2019, Rad Extraction will begin a genetics program to produce seedlings. "As opposed to clones, there are less mite and disease problems, and they take off out of the ground better."
Whether a grower chooses clones or seedlings, Bachmeier offers his perspective on price range. "I know guys spend anywhere from $4 to $10 per clone, but I think anything over $6 is overpriced. As for seedlings, you should pay about $3.50 to $4.50."
"There is an immense future for farmers in the hemp industry, but that doesn't change the fact of the con, and right now, that's the biggest danger in hemp," Bachmeier concludes.
Undaunted, Adams is going back to the drawing board in 2019, preparing to purchase clones and expand his growing experience to machinery planting and 20 acres of hemp for CBD. The remains of the 2018 crop are still hanging in his shed. "Live and learn," he adds. "Next time it's going to be right."
For more, see:
Killing Hogzilla: Hunting a Monster Wild Pig
Agriculture's Darkest Fraud Hidden Under Dirt and Lies
Blood And Dirt: A Farmer's 30-Year Fight With The Feds
Amazon, Walmart? Farming's Wild Scramble For Online Ag Retail
Seeds of Discord: Crossing the Great Cover Crop Divide
Bald Eagles a Farmer's Nightmare
Living the Dream: Honoring A Fallen Farmer
Cover Crop Bandwagon Frustrates Farmers
Corn's Carbon Cowboy Busts Outstanding Yields
Pigs Don't Fly: Feral Hog Spread Is A Man-Made Mess
Jimmy Frederick Booms 163 Bu. Soybeans
Who Killed the Finest Soybean Soil in the World?
Meet The Father of Six-Row Corn