Falling Corn Got You Down?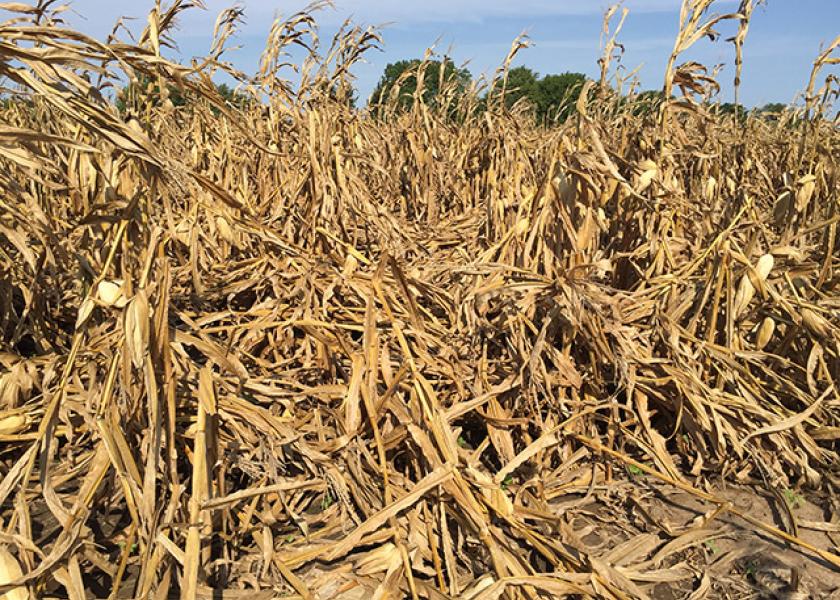 There are few more disheartening sites than a corn field, once full of promise, now lying flat on the ground. This will not only make harvest more difficult and time consuming, but also put you at risk of leaving bushels in the field.
In addition to the ever-uncontrollable threat of weather, a variety of factors contribute to corn's propensity to falling over: hybrid susceptibility, carbohydrate stress, nutrient deficiencies and diseases are causes to consider, according to the University of Delaware Extension.
Hybrid susceptibility: Hybrids with low ratings of stalk strength or those that produce exceptionally large ears tend to be more prone to stalk rots [which can lead to lodging] than those with strong stalks and smaller ears.
Carbohydrate stress: This can be caused by limiting photosynthetic ability, such as foliar diseases, insect damage, limited sunlight, high plant populations and nutrient or water deficiencies.
Nutrient availability: Lack of certain nutrients can cause the stalk to cannibalize to get necessary nutrients to the ear, this leads to a hollow and weakened stalk.
Diseases: Fusarium, Anthracnose and Diplodia are common stalk rots that lead to weakened stalks.
Hybrid selection at the beginning of the season is a critical step in making sure you have good corn standability. Look for hybrids with good standability ratings, resistance to key stalk rots and resistance to photosynthesis-limiting foliar diseases.
In some cases, fungicide application can improve corn's ability to stay standing. If it's not too late, increase scouting one to two weeks prior to tassel in corn and just prior to reproduction.  However, after tassel in corn, there is less chance for prevention, and a fungicide application would likely be too late or at best a rescue treatment.

As a general rule of thumb, consider a fungicide application if a fungal disease is present on the third leaf below the ear leaf or higher on 50% of the plants at tasseling—which is when plants are most susceptible to disease, according to Iowa State University.

Recommendations vary, though, so talk to a local retailer, dealer or Extension agent to check thresholds. Be prepared to act quickly if needed.