Editor's Picks: 15 Of Our Favorite Stories From 2018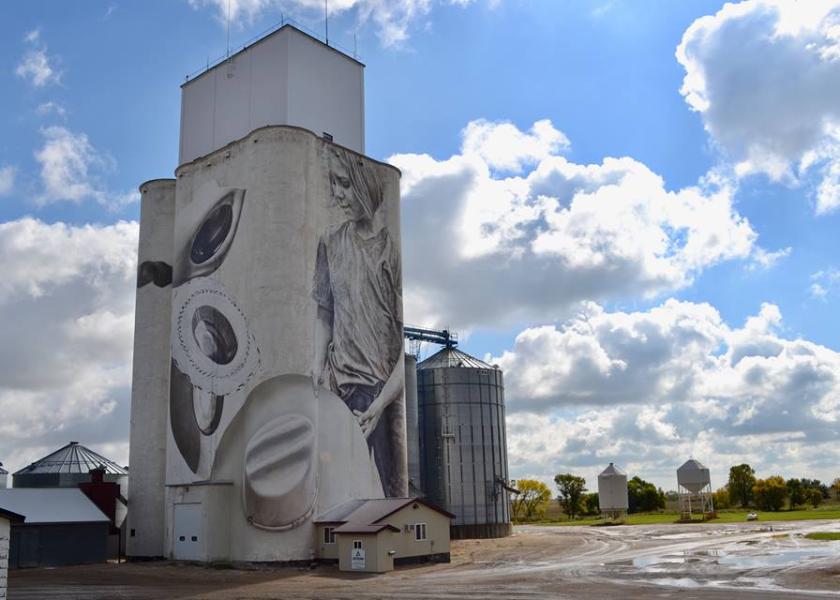 Each year, Farm Journal Media staff write hundreds of stories that appear online, in print, on radio or on television. Certain stories stand out for each of us—they might warm our hearts or were something we're proud we wrote. Check out our favorites from 2018—who knows, one might be your favorite, too.
AgProfessional Editor Margy Eckelcamp: 110' Mural Covers Local Elevator Top To Bottom
I had been watching the photos of the progress of this mural, and when I saw there was the official ribbon-cutting I knew it was time to write the story. In talking with those involved, the pride they felt for this project radiated in how they described the impact it has already had on their community. Everyone loves to be proud of their hometown, and it was a neat angle to be able to report on how a retail facility could provide the canvas to bolster that pride. I blogged about it as well.
AgWeb News Director John Herath: DC Signal To Noise: The Post-Election Special
Working with Jim Wiesemeyer on the DC Signal to Noise Podcast has been by favorite new project of 2018. This weekly podcast gives the best insider's view on what to be watching in ag policy.
In this special, post-election edition, Jim and I were joined by Top Producer Editor Sara Schafer with a look at how the election might impact the farm bill and other issues of importance to farms and rural America. Among the noticeable insights from Wiesemeyer: a prediction that a divided Congress may decide to bring back earmarks to fund members' pet projects back home.
Farm Journal's Pork Editor Jennifer Shike: Never Surrender: Scott Dee Goes To Battle To Protect U.S. Swine Herd
Meeting Dr. Scott Dee, DVM, during my first week on the job as the new editor of Farm Journal's PORK Magazine at the Allen D. Leman Swine Conference was an unforgettable experience. African swine fever was the topic on everyone's mind that week as fears and worries were on the rise with recent reports of the disease's spread in China. Dr. Dee sat down with me and not only shared his perspectives and research on transboundary diseases in feed, but he also opened up about his personal and inspiring journey as a swine veterinarian. He revealed his devastating first experience with the "mystery disease" that struck the pork industry years ago. That "mystery disease" is widely known today as Porcine Reproductive and Respiratory Syndrome (PRRS). Dr. Dee's scientific discoveries surrounding PRRS have left a lasting impact on the health of the U.S. swine herd. I believe his work in the area of African swine fever will do the same.
Drover's and Farm Journal's Pork Digital Producer Sara Brown: From Policy Taker To Policy Maker and Cargill Develops Industry-First Robotic Cattle Driver
This year, I was looking for ways producers can innovate through tough policy, trade and production headwinds. While the pork industry was dealing with African swine fever in China, the cattle industry was plagued by drought and forage issues. Regardless of the challenges, farmers are continuing to improve operations, and incorporate new technology. Visiting with Missouri Director of Agriculture Chris Chinn, a hog producer from northwest Missouri, I was able to see how a farmer approaches policy development and her advice on how to influence policy change. On the cattle side, I believe we are in the midst of a technology jump—Cargill's new robotic cattle driver is one example of improving efficiency and employee safety, while also reducing stress on the animal.
Top Producer Editor Sara Schafer: This Producer's Day Job Fuels Her Farming Passion
I have the extreme honor of meeting impressive, business-minded and goal-oriented farmers. Maggie Holub is our 2018 Tomorrow's Top Producer Horizon Award winner. This impressive young farmer from Scribner, Neb., is a shining example of how an off-farm job can complement and fuel a farming passion. Holub farms 700 acres of corn and soybeans and has a full-time job in Omaha (an hour away) as a credit analyst for Farm Credit Services of America. She scrutinizes farmers' balance sheets, cash-flow statements and financial trends during the day, and then makes those same production and management decisions for her own acres by night. What an amazing story!
AgDay National Reporter Betsy Jibben: 'Thankful I Made It' Betsy Jibben's Grandpa Shares Service, Survival
The U.S. Department of Veterans Affairs says there are less than half a million World War Two veterans still alive. That dwindling number is why AgDay's national reporter, Betsy Jibben, decided to interview her grandfather back in August. Lieutenant Howard Douglas Opheim enlisted in the Army Air Corps and was a pilot of a C-47 plane which carried paratroopers and supplies during WWII. Unfortunately, Opheim passed away in October before the story aired. AgDay's national reporter Betsy Jibben shares his memories service and survival from a member of 'the greatest generation.'
Livestock Content Strategy Director Portia Stewart: Captain Charles Plumb Offers Parachute to Dairy Farmers
Is there anything more haunting than hearing a personal account from a Vietnam war veteran describing his time in the Hannoi Hilton? I'm not sure, but I do know that Captain Charles Plumb, the keynote speaker for the 2018 MILK Business Conference, managed to translate his own experience into a message of hope for dairy farmers struggling with tough issues that range from low milk prices to worries about bankruptcy. It's a message we can all learn from. Read how Plumb, a former farm boy, offered a parachute to dairy farmers.
Radio Producer Ashley Davenport: AgriTalk and The Importance of Pollinators In Environmental Stewardship
This year, I became the new producer of AgriTalk with Chip Flory. One of my favorite shows I produced included former USDA Sec. Tom Vilsack, current USDA Secretary Sonny Perdue, and Sen. Heidi Heitkamp (D-ND). It's always neat when we have political leaders on the show, but we got some of the biggest names on one program!
AgPro Podcast: Goldstar FS is making the most out of their land and environment by establishing pollinator plots. I had the opportunity to have a group discussion with the team from Goldstar, including their "beekeeper in chief" about how they are helping their growers (and themselves) be better environmental stewards.
Drovers Editorial Director Greg Henderson: The (New) Case For Animal ID
From the threat of animal disease outbreak, growing importance of export markets and the innovative ways beef is marketed to consumers around the globe, the U.S. livestock industry is realizing that animal ID might soon become a necessary part of doing business. Food safety scares like the crisis at Chipotle should be a wakeup call for all beef industry stakeholders.
Seeds and Production Editor Sonja Begemann: Taxes Push Family To Farm In A New State
I really enjoyed this story for a number of reasons. First, the family was a joy to interview and I got a tour of their new farm. Second, and perhaps most importantly, they showcased what I love about farmers: the will to survive. They did something many people are too scared to do by starting over and I admire their willingness to do so. The family supports each other and motivates each other to keep doing better—qualities I think we all want to have.
In addition, it was exciting to see the traction this story received. I had dozens of farmers, bankers and even people who work for politicians reaching out to me on this piece. Nebraska's governor even made a recent announcement that applies to the property tax situation in the state.
Drovers and Dairy Herd Management Associate Editor Wyatt Bechtel: Securing Border Ranches and I'm A Drover: Dual Citizen, One Mission
Two stories that I put together after visiting with ranchers around Nogales, Arizona focused on a number of politically charged issues. Border security, immigration, wildfires, food safety and trade were all topics discussed in my interviews with cattle producers who live and work along the U.S.-Mexico border. Not only did I capture this story through photos and written word, I was also able to take some video to help paint a picture of what life along the border looks like for cattlemen.
Farm Journal's Milk and Top Producer Magazines' Business Editor Anna Lisa Laca: You Are Not Invincible, You Don't Have To Be
To say 2018 was a tough year for farmers is a gross understatement. This story was the most important reminder we could provide our readers. You are more than your farm and there are resources available to help you navigate any challenges that lie ahead.
What was your favorite story from 2018?