New Cover Crop Tool Assesses Field Impacts For Illinois Farmers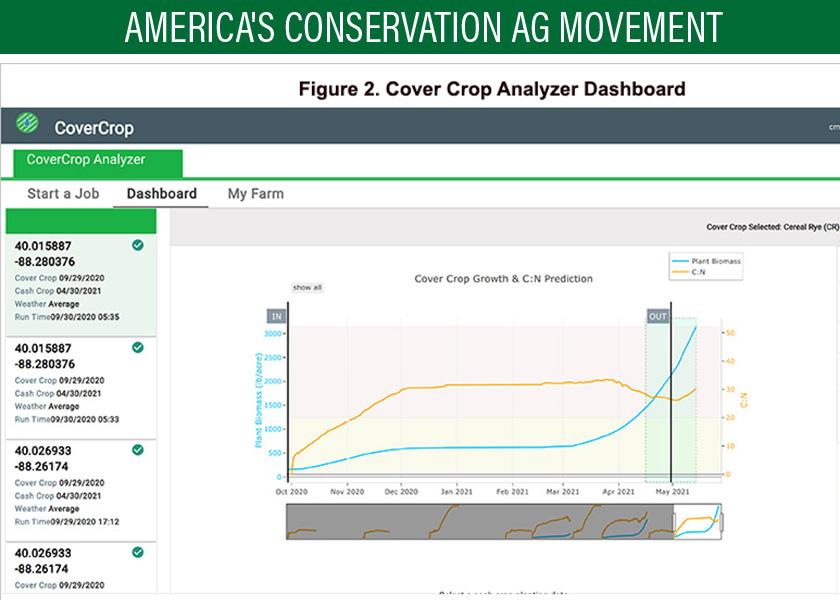 Building trust in food begins with empowering farmers through one of the largest and most diverse conservation- and sustainability-focused public-private partnerships in our nation's history: America's Conservation Ag Movement. To find the latest news and resources related to the Movement, visit AgWeb.com/ACAM.
---
This article was written by Emily Smith, Community Engagement Coordinator/Digital Producer, for Trust In Food. Learn more at trustinfood.com.
A free, new online tool called the Cover Crop Analyzer helps farmers across Illinois predict how much nitrogen loss they might prevent using a cover crop such as cereal rye—and also assess field conditions to manage covers alongside cash crops such as corn and soybeans.
"Future releases will include improvements, along with additional functionality and features that include improving the weather data and modeling as well as additional cover crops," write the creators in a blog post at Farmdoc Daily. "The project is also interested in expanding beyond Illinois."
The tool, developed over a four-year period, launched Oct. 1. It is a collaboration of the University of Illinois Gardner Agricultural Policy program, the Farmdoc project and the National Center for Supercomputing Applications.  
Cover crops are a common conservation practice among farmers because they can hold nitrogen in the soil better than a fallow field, which might allow nutrients to be lost through leaching and drainage. This poses unique challenges to farmers in Illinois, where the state is working with farmers on voluntary efforts to reduce nitrate-nitrogen loading by 15% and phosphorus loading by 25% by 2025.
Such loading presents problems because it removes nutrients such as nitrogen—plant food—from being available for crops, says Jonathan Coppess, director of the ag policy program. It also means water must be cleaned by local communities before it is suitable for public consumption.
How It Works. Coppess is hopeful the tool will help move farmers closer to adopting beneficial conservation practices and help all that do adopt, reach success.
Available to any landowner in the state, it can help farmers explore how cover crops might help their operations and which inputs are needed.
Among the most exciting aspects of the tool are the following elements, according to Coppess:
•    It allows farmers to run a cover-crop simulation on any field in the state, a low-risk step that illustrates potentially important rewards.
•    It can facilitate conversations about cover crops within the agricultural community. Farmers can share what they see and explain how cover crops are useful.
•    It will include additional features in the future, including a decomposition simulation and weather forecasting.
The inaugural version of the tool is just the starting point. The Illinois team hopes farmers will use the Cover Crop Analyzer to simulate cover crop use before actually incurring costs and putting them into practice. The researchers hope to eventually have data showing that cover crops can reduce overall farm costs.
To learn more about the tool, visit the FarmDoc Daily blog. https://farmdocdaily.illinois.edu/2020/10/introducing-the-cover-crop-decision-support-tool.html
You can also register to use the tool. https://covercrop.ncsa.illinois.edu/
Funding for the project came from Illinois Nutrient Research & Education Council (NREC), with seed funding from the McKnight Foundation and the University of Illinois. Future iterations of the tool will have financial support from The Walton Family Foundation.
New Research: 900 US Farmers Weigh In On Water