110' Mural Covers Local Elevator From Top To Bottom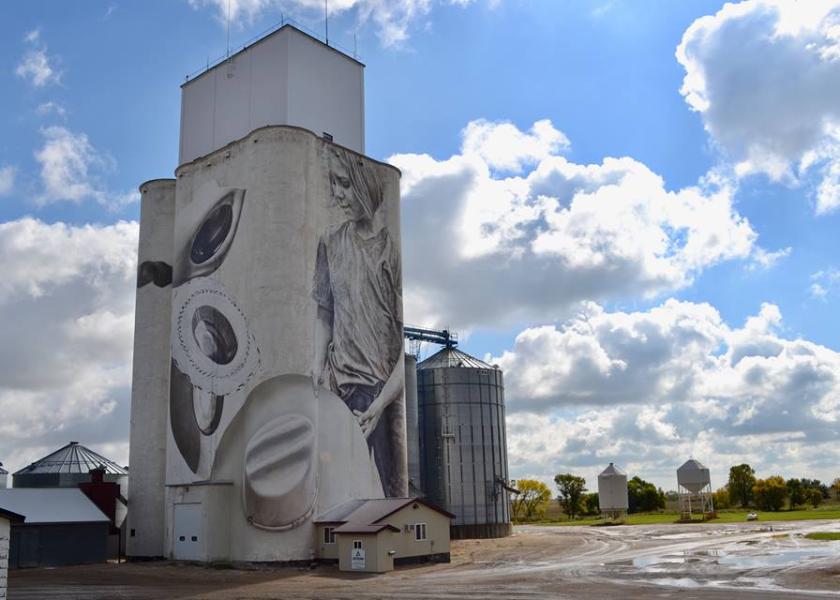 After Mount Rushmore and the Crazy Horse Memorial, the Agtegra Elevator in Faulkton, SD is the third largest art installation in the state of South Dakota.
The mural, which is 110' high on three sides of the working grain elevator, was just celebrated with a ribbon cutting ceremony on Oct. 5.
"I grew up looking at that elevator as it was, and as I told the crowd at the ribbon cutting there's going to be a whole generation who will never know what it looked like without the mural. That's really cool," says Troy Hadrick, a local farmer and rancher.
Hadrick is the current president of the volunteer economic development corporation for Faulkton, a town of approximately 700 people. The idea of the mural first started to be brainstormed a little over two years ago. A resident who was originally from Australia reached out to Australian artist Guido van Helten, who had painted a grain elevator in Victoria, Australia.
Van Helten traveled to Faulkton last summer, and he returned in this past June to begin the project.
Hadrick was one of many volunteers who joined the artist in the 135' lift to pressure wash, repair and whitewash the patches on the elevator all in prep work before the artist painting could be begin. 
The finished product depicts two children passing cowboy hats between them.
In all the project cost roughly $75,000, of which about $20,000 was covered with grants from South Dakota Farm Bureau, Grow South Dakota, and the South Dakota Arts Council.
"The rest came from checks written by the community. As soon as folks started to see what it was going to become, the community really got on board," Hadrick says.
He is particularly proud of the impact it's already had on the community—where his family has been for more than 100 years.
"We're 100 miles from the interstate, and we're 65 miles from a Starbucks or a Wal Mart," he says. "But the impact has happened faster than we thought with many travelers rerouting their trip to come see the mural."
The Faulkton Agtegra location provides agronomy, feed, grain and petroleum services. General manager Marv Hutchinson has been at the elevator for 40 years and said the elevator management and ownership has been supportive of this project from the very beginning. 
The project also includes three viewing stations, with parking and picnic shelters, so the visitors don't impact the regular traffic flow in and out of the Agtegra location.
"Several of us had a vision of how this could change our community. We've always been known for agriculture and hunting, but now we have a third facet to our community—art," Hadrick says.
Two more murals have been completed in Faulkton this summer, and two more are planned. But none quite as big in scale as the Agtegra elevator.
Related: CAB's "Brand the Barn" Puts Passion for Beef Up to For All to See